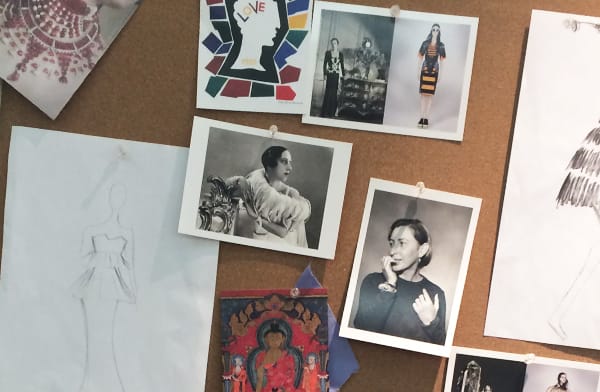 Here is a sneak peek at our studio while working on the Futurista collection. I begin each collection by pulling together a mood board of inspiring images from my travels. Next I will  sketch and select fabrics which I will drape on a tailor's mannequin.
I love to create beautifully structured eveningwear with an unexpected twist. For this particular collection I was fascinated by this idea of the future, especially as it relates to architecture. When one looks at movies such as Blade Runner, Metropolis and Gatacca, there is a very distinct aesthetic that emerges, where seamless objects and buildings appear sleek and rounded. There is often a shiny or metallic quality to the surfaces, and that formed the starting point for this collection.
I spent a lot of time researching fabrics and discovered an amazing duchess satin interwoven with translucent yarns, which produces an extraordinary effect. The textile not only reflects light beautiful in feminine shades of ivory, pink and violet but also has the sculptural quality of gazar, which allowed me to create architectural shapes and cuts.